CASE STUDY: Brackish Water RO Plant for Laundry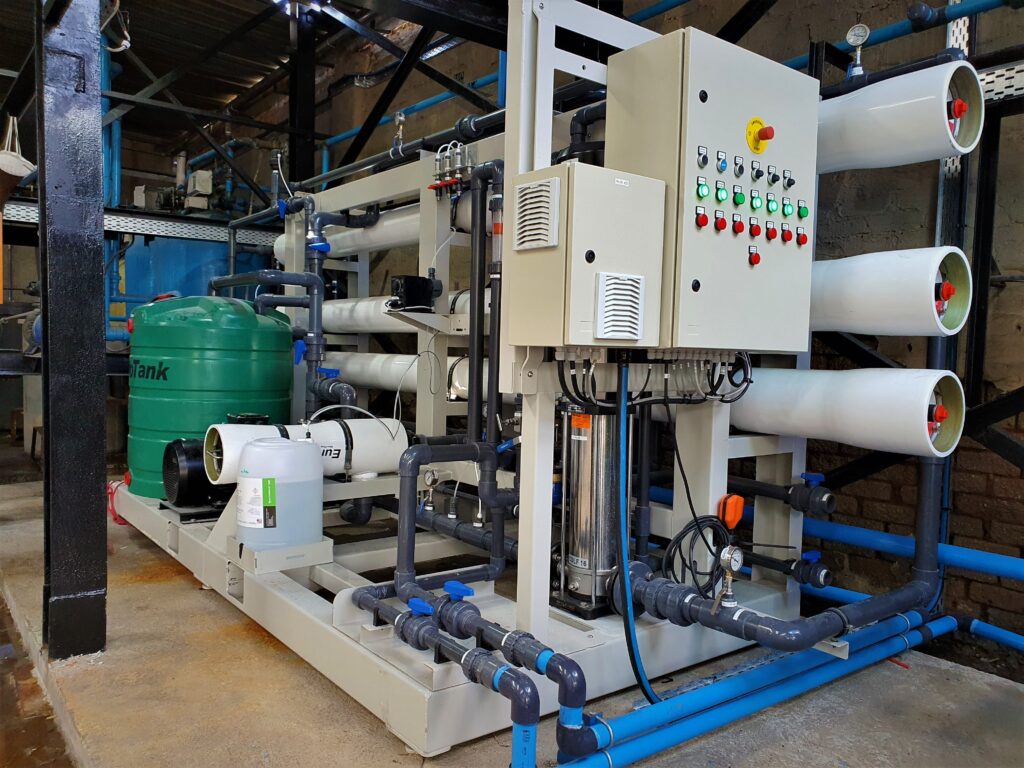 PROJECT TITLE
Brackish Water Reverse Osmosis Plant for Industrial Laundry in Gauteng, South Africa.
THE PAIN POINT (NEED)
Our client is a South African Industrial Laundry who uses borehole water for its washing operations and boiler feed water. While the borehole water quality was compliant with SANS 241:2015 Drinking Water specification, the total dissolved solids (TDS) and hardness was too high for efficient use in the Laundry. A softener system was previously installed which reduced the water hardness to acceptable levels. However, the TDS was not reduced and the softener operation was expensive due to the demand of high concentration salt water (brine) for regeneration of the softener plant. The TDS included dissolved Iron which uses some of the peroxide of the washing chemicals and therefore causes higher chemical usage in the Laundry.
THE SOLUTION
Kainos Projects Africa provided a brackish water reverse osmosis water treatment plant (10 m3/h) to our client, which, together with raw borehole water blending, now provides the laundry with optimum water quality and quantity (13 m3/h) for its operations. Additional value was added with less boiler feed water chemicals now required. Our standardised range of brackish water RO plants for capacities between 1 and 20 m3/h enabled us to provide a quick delivery time to our client.
SOURCE WATER 
Brackish borehole water
PERFORMANCE TARGET
TDS: 150-200 mg/L (RO plant gives ~20 mg/L)
pH: neutral
Total Hardness (as CaCO3): <5 mg/L
Dissolved Iron: <0.1mg/L
PROCESS
Antiscalant Dosing
Reverse Osmosis
Integrated CIP